Financial Literacy Month: Part 5 of a 10-part blog series on your financial well-being?
Throughout November, consult this series of blog posts to learn more about your current finances — and how to set yourself on a path to financial freedom.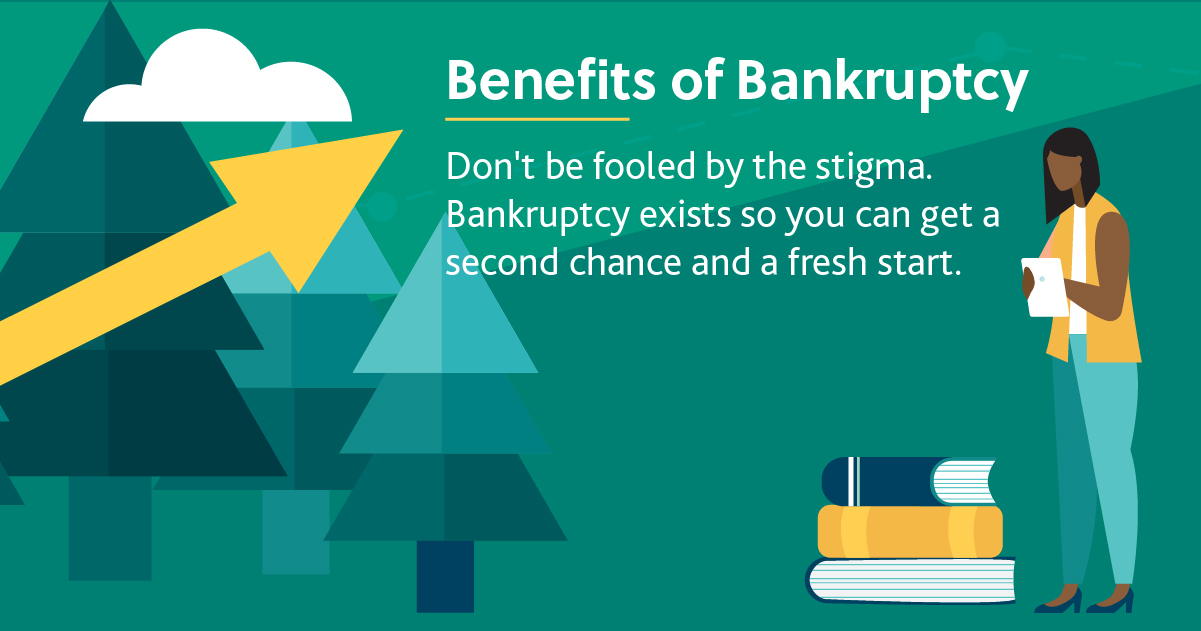 After consulting with your local financial advisor, you've determined that Bankruptcy is the next step for you. While the decision may not be easy, it's an important step in your journey to debt freedom. It's a great time to take a deeper dive into the process of filing for Bankruptcy.
Let's review the steps and timeline of your personal Bankruptcy filing.
Bankruptcy recap
If you've been following this blog series then you already know that Bankruptcy is a federally legislated legal process that forgives certain debts for individuals experiencing financial struggles that are too challenging to overcome through outright debt repayment or settlements. A Bankruptcy can only be filed by a Licensed Insolvency Trustee after they have completed an assessment of your situation and you meet certain conditions. A Bankruptcy is not something that your Creditors can refuse unless there are extenuating circumstances and it is found that you didn't meet those conditions.
While it may be viewed as a last resort, Bankruptcy is a realistic option to solve your debt problems in an efficient and effective manner. As a legal proceeding, there are several important steps you must be aware of as the Licensed Insolvency Trustee administers your proceeding. The Licensed Insolvency Trustee is a Court Officer and is not your representative during the process but, together with its team and support from the Office of the Superintendent of Bankruptcy they are there to help you through the process.
Bankruptcy steps
Once ready you can expect to go through the following steps on the Bankruptcy stage of your journey to financial freedom.
Step #1 — Legally filing for Bankruptcy. The Licensed Insolvency Trustee ("LIT") that you choose will prepare the paperwork and provide you with your duties and responsibilities during the process. Once the paperwork is executed by you and the LIT, the LIT will file everything with the Office of the Superintendent of Bankruptcy, a Certificate of Appointment will be issued and the stay of proceedings will take effect. The stay of proceedings is what impedes your creditor's from taking action against you and you should at this point stop your debt payments to your effected creditors so you can breathe easy.
Step #2 — Fulfilling your Bankruptcy duties. During the administration of your Bankruptcy you will be required to perform certain duties. Those duties include counselling, among others. As part of your Bankruptcy the LIT is required to provide you with counseling at no additional charge and you are required to complete those counselling sessions. The counselling will provide you with helpful information regarding budgeting, saving and credit that will help you recover financially and build healthy financial habits. Other duties while in Bankruptcy will include, providing monthly budgets, making certain payments to the estate and helping the LIT deal with your financial affairs and assets.
Step #3 — Getting discharged. If all goes well, the LIT doesn't encounter any difficulties and you complete your duties, you will be eligible for discharge from your Bankruptcy. This can be one of the most fulfilling steps in the Bankruptcy cycle. Once discharged all your eligible debts will be forgiven and you will no longer have to worry about those creditors pursuing you for repayment.
Step #4 — Building back your credit. Obtaining credit and building your credit score is still possible after Bankruptcy. Take lessons from your counselling sessions approach your bank and work with financial advisors to get tips on how to rebuild your credit rating. This will involve many of the tools and skills you've been using so far during your Bankruptcy.
Don't stop here. Learn as much as you can about the Bankruptcy process as you plan your future with your financial advisor.
Bankruptcy Timeline
If it is your first time, most Bankruptcies will last from 9 to 21 months depending on your particular situation. The timeline starts when your Certificate of Appointment is issued.
Your ability to complete your duties, level of income and complexity of your affairs will impact this timeline.
Credit Score Timeline
The timeline of the Bankruptcy isn't the only important matter to consider. In addition to the length of time it will take to get your discharge, your Bankruptcy will affect your credit for a period after discharge. Typically your credit score will be impacted and your Bankruptcy filing will appear on your Credit Report for an additional seven years after you've obtained your discharge from your Bankruptcy.
Learn more about what to expect when filing for personal Bankruptcy as you decide on the best path for your financial future.
Move on with your life
This may be the most important step of all. You've taken a big leap and worked hard to improve your financial standing and now have the tools you need to manage your finances. The entire point of filing for Bankruptcy was to deal with your debts, get rid of the financial stress and restore your ability to live debt free. We'll have more on that later in the series. For now, just remember that getting a fresh start is the ultimate goal of the Bankruptcy process.
Next Blog: Part 6: Benefits of Bankruptcy