When you're overwhelmed by crushing debt, a personal Bankruptcy will provide a fresh start and could be the Life-Changing Debt Solution you're looking for. Choosing to file for Bankruptcy is a serious decision which may not be for everyone. Our Licensed Insolvency Trustees will explore all the options available to resolve your debt challenges and walk you through the Bankruptcy process to see if it's the right choice to eliminate your debt once and for all.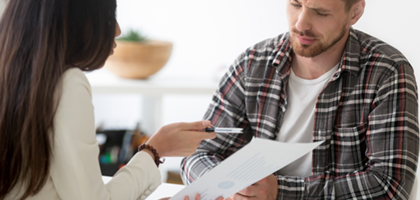 Consumer Proposal vs Bankruptcy
Consumer Proposals and Bankruptcies are both government legislated options which can provide you with relief from significant debt problems. In addition, both debt solutions can only be administered by a Licensed Insolvency Trustee and provide a legal stay of proceedings which require creditors to discontinue harassing collection calls, garnishment or other legal proceedings.
Determining which, if either, option is an appropriate solution in your own unique situation depends on a number of variables. Let's explore the advantages and disadvantages of both a Consumer Proposal and a Bankruptcy.
Is Filing For Bankruptcy the Right Choice For You?
Filing for Bankruptcy in Canada may be the right choice if you:
Have had your wages garnished
Are unable to make your credit card and loan payments on time
Receiving Past Due Notices and Debt Collectors are calling
What to Expect When Filing for Bankruptcy
Declaring Bankruptcy is a legal process that will be managed by one of our Licensed Insolvency Trustees. Your Licensed Insolvency Trustee will help you, amongst other things, fill in all the paperwork required to declare Bankruptcy, inform your creditors, stop wage garnishments and help prevent further legal action against you.
Latest Blog Posts
2023-06-06
Money wasn't something my dad talked about very much when I was growing up. However, he did have a couple of expressions he would share repeatedly over the years.