Financial Literacy Month: Part 6 of a 10-part blog series on your financial well-being?
Throughout November, consult this series of blog posts to learn more about your current finances — and how to set yourself on a path to financial freedom.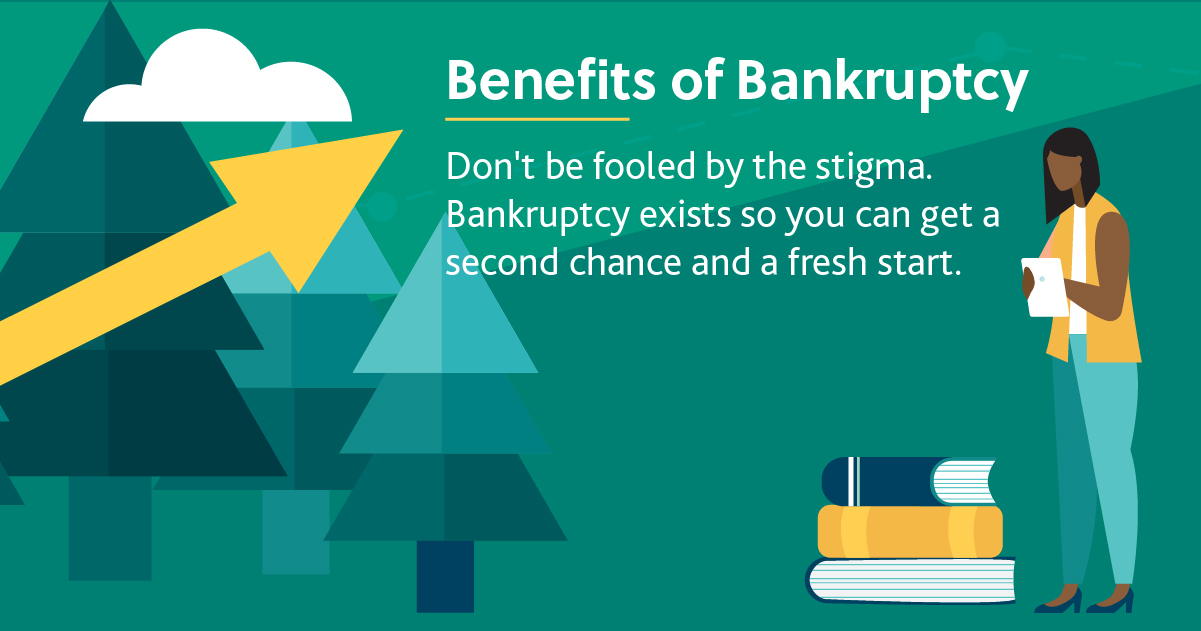 When people think of Bankruptcy, they usually think of it as a negative consequence. The truth is that Bankruptcy is a real option for many people who are having financial difficulty. The good news is that if Bankruptcy is the right choice for you, then you will benefit from the experience.
5 positive outcomes from your Bankruptcy
Throughout your Bankruptcy journey, there are several benefits beyond relieving yourself of unmanageable debt. The ultimate goal is to be debt-free on your way to full financial freedom. But even during a challenging time, Bankruptcy does offer some advantages.
1. No more harassment
If you've ever experienced the stress of being chased by creditors then you already know how big of a benefit this is. When you're struggling with debt, specifically overdue payments, the collection agencies can feel like a dark cloud over your life. The calls, the notices, the increasing cost. And if it gets really bad, garnished wages can feel absolutely crippling. If you file for Bankruptcy, all of that harassment stops. It's legally required to. Creditors cannot refuse a Bankruptcy. Your Licensed Insolvency Trustee will work with you and the creditors to put a plan in place that will make them happy while instantly ending the harassment. So far, Bankruptcy is off to a pretty good start.
2. Financial counselling is a good thing
A lot of people look at the two mandatory counselling sessions as a punishment. Or maybe they've had bad experiences with counselling in the past. Don't worry, you won't be lying on a couch sharing your feelings. This is an incredible opportunity to learn from your financial mistakes in the past and move forward with more knowledge and tools to manage your finances. Between your Licensed Insolvency Trustee and your financial counselling, you'll be armed with a whole new set of skills that you can put in place throughout your Bankruptcy and after you're discharged as you move into a new phase of your life.
3. Get some extra help with your taxes
As part of the Bankruptcy, your Licensed Insolvency Trustee will ask you for the required information to file your taxes. Given the importance of filing taxes every year and how much work it is, having a trusted advisor filing your taxes is a huge plus in the Bankruptcy process. But it doesn't stop there. Often, overdue taxes — or even being behind on filing taxes — are part of why you filed for Bankruptcy to begin with. Your Licensed Insolvency Trustee may even help you file taxes you're behind on as well.
4. The numbers work in your favour
You're filing for Bankruptcy because numbers haven't exactly been your best friend. Well. now the numbers are going to start coming over to your side. First off, there is no limit to the amount of debt you can file Bankruptcy for. While certain debts aren't eligible, like child support or recent student loan aid, the debt you can file for has no maximum amount. In the end, the numbers will also be on your side when you repay less than you owed. As part of the legal process of Bankruptcy, your trustee will work with your creditors to arrange for a lower repayment than the full debt amount. You'll be in a position to make sure the numbers stay on your side in the future.
5. Now you get to rebuild your credit
The whole point of Bankruptcy is to turn the page in your financial story. Leave debt behind and move into the chapter of financial freedom. Yes, Bankruptcy will negatively affect your credit. But you have the power to rebuild that credit and you don't have to wait until discharge to do it. Working with your trustee, and with the skills from your financial counselling, you'll come up with a plan to rebuild your credit This strategy will begin with looking back and what led to your debt struggles in the first place. Doing things like getting a prepaid credit card and making all of your payments on time will slowly rebuild your credit. Bankruptcy will stay on your financial record for at least six years, giving you lots of time to put your plan into place.
You'll be debt free!
Don't forget the biggest benefit of all. The point of filing for Bankruptcy is to ultimately become debt free. This process will give you a fresh start and all the tools you need to make the most of it. It's not an ideal situation to find yourself in, but it's also not the end of the world. There is a silver lining that will lead to brighter days. For more information, check out MNP's Bankruptcy FAQ.
Next Blog: Part 7: Consumer Proposal process