Five resources to increase your money management IQ this financial literacy month
Personal finance can seem like an endless stream of jargon, best practices, and often contradictory advice about what you should do with your hard-earned income. People often tell us they've tried to learn, but either don't have time — or gave up as one over-hyped system after another failed to live up to its bold and unrealistic promises.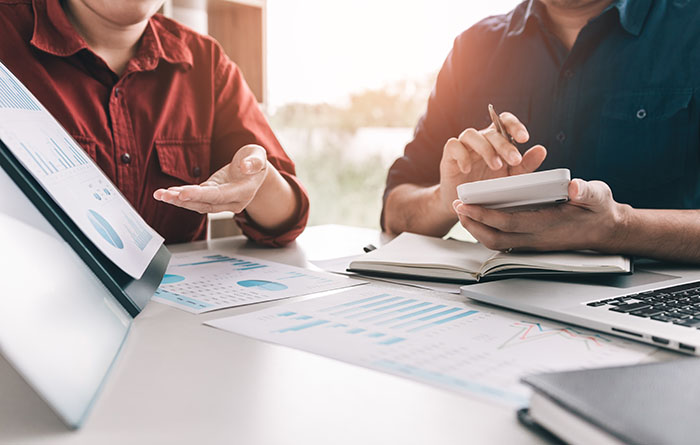 We promise the process doesn't have to be so difficult or disappointing. Even just half an hour every day with some of these fantastic resources can help you build the necessary skills and knowledge to rule your financial world.
Start today and we're certain you'll feel better about managing your money in no time.
Government of Canada
The Financial and Consumer Agency of Canada offers a comprehensive online learning program to help you improve your financial literacy, including modules on:
Budgeting
Banking
Saving
Credit and debt management
Mortgages
Insurance
Investing
Income tax
Retirement and pensions
Financial planning
Fraud protection
Also available are seven in-depth videos on topics ranging from how to create a budget, live within your means, deal with debt, avoid becoming a victim of financial fraud, and more.
These resources are all free and provide a great introduction to key financial concepts.
Books
Many libraries and retailers have sections devoted exclusively to personal finance, with a wide rage of titles for all ages and skill levels. Some of my favourites include:
The Wealthy Barber by David Chilton — The Dragon's Den alum provides all sorts of financial wisdom through a uniquely Canadian lens, making this a great place to start for many beginners across the country.
Total Money Makeover by David Ramsay — Ramsay is widely respected for his down to earth and no-nonsense perspective on debt. Here he offers straightforward, and actionable approach to managing a budget and getting out of debt.
Stop Overthinking Your Money by Preet Banerjee — Another Canadian publication, Banerjee delivers a well-reasoned approach to boil personal finance down to five accessible principles; plus additional insight on investing, financial advisors, and insurance.
There's a universe of timeless knowledge to discover. But be vigilant of authors who promise secret wealth hacks or get rich quick schemes. They're almost certain to leave you further behind and deeper in debt.
Web resources
The wonder of the internet gives you unfettered access to countless bloggers and personal finance experts willing to give their knowledge away for free. While some sites focus on more niche subjects like budgeting and investing, there are plenty who cover the gamut of financial literacy topics.
Here are some great places for Canadians to start:
Maple Money — This personal finance blog and podcast offer all sorts of tips on saving, investing, banking, and how current events are impacting your bottom line.
Money After Graduation — This blog, advice, and review site covers it all from finding the best bank account to navigating the emotions personal finance invariably boils to the surface.
Practical Money Skills — Visa Canada offers a range of tips, calculators, worksheets, and quizzes on a range of financial literacy topics which are valuable for helping you and the whole family improve your relationship with money.
Credit bureaus
Canada has two credit bureaus whom your lenders report your credit history to every month. While we normally recommend requesting your free credit report from both Equifax and TransUnion at least once a year, we also recommend taking advantage of their free education resources.
Both sites have comprehensive information on:
Reading and understanding your credit report
Making sense of credit scoring and its impacts
Preventing fraud and identity theft
Managing money and preventing unsustainable debt
MNP resources
At MNP, we're committed to providing you with a wide range of information on budgeting, managing household costs, navigating and eliminating debt and more. Below are just a few information, do-it-yourself, and formal debt solutions we offer.
Blog — Get leading advice from our more than 50 Licensed Insolvency Trustees across Canada
Podcast — Our 3 Minute Debt Break catches you up on today's most important debt and personal finance topics in less time than it takes to brew a cup of coffee
MNP Consumer Debt Index — See how a range of economic factors are impacting Canadians' abilities to manage debt, pay bills, and navigate shifting interest rates.
Debt Scale — Get a free check up on your debt health and find out if it's time to speak with a professional about your options.
Debt Calculator — Compare your debt relief options and see which option may offer the fastest, least expensive path to a financial fresh start.
Budget Tracker Spreadsheet — Build your budgeting skills with a comprehensive template built specifically with beginners in mind.
Free Confidential Consultation — Discuss your options and opportunities to overcome financial challenges financially with a free no-obligation assessment of your financial situation.