12 holiday budgeting tips to stay jolly into the new year
No matter where you are on the holiday scale, the pressure to 'spend-lebrate' the season can tip you into the red for months, even years. Especially if COVID put some of your holiday festivities on hold the past two years, the urge to make a big splash this year on décor, gifts, party clothes, food and drink could see your spending get carried away — landing you in financial distress.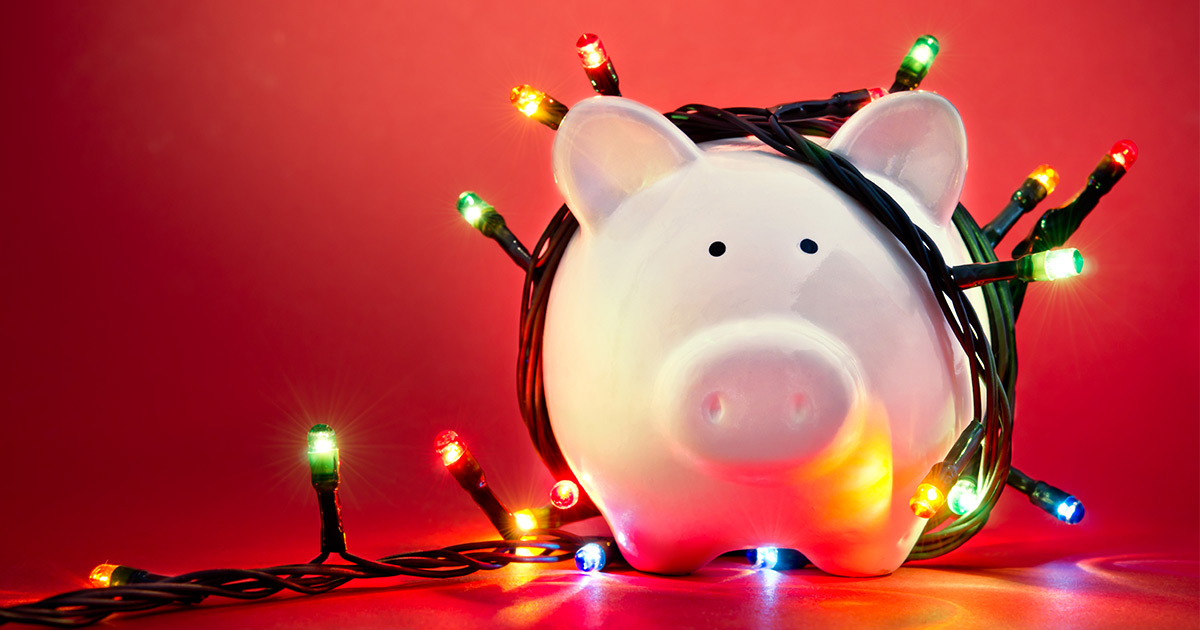 But don't let that dampen your holiday cheer: there are plenty of ways to enjoy the season without breaking the bank. The MNP Ltd. team has put together our favourite 12 tips on how to celebrate the holidays without over-extending your bank account — or your future.
1. Cap your spending
Put a limit on how much you'll spend on all gifts and stocking stuffers. Know how much you intend to spend on gifts, stocking stuffers, cards, food, and decorations before the season even begins. Otherwise, you might find yourself accounting for your purchases when the dreaded December credit card bill comes due.
Setting some sort of hard ceiling for your spending can help protect against the negative effects of holiday fever. Whether you've been contributing to a savings account or envelope throughout the year, or use a spreadsheet or good old-fashioned budget, begin with a number in mind and stop spending once you've hit your limit.
2. Draw names
Reduce the number of gifts everyone in the family has to buy this year. It's rarely practical to buy gifts for every family member, friend, and co-worker on your list. You may end up spending more than you can afford, struggling to decide who does and doesn't get a gift, or resorting to small, forgettable presents for everyone just to keep things affordable. The blanket approach to gift buying increases the chances for hurt feelings and broken budgets and can completely ruin the spirit of the season.
Pulling names from a hat is a fantastic way to ease the tension. Whether it's a secret Santa (nobody knows who is buying for anyone else), or an open draw, focusing your time and attention on only one other person makes gift giving more fun, more personalized, and much more affordable.
3. Leave the plastic at home
Make this holiday a cash- or Interac-only affair. At this point, that post-holiday credit card bill has become an all-out cliché. Consider making your holiday shopping a debt-free endeavour. Whether you save up throughout the year or simply find a way to factor the added costs into your December budget, find a way to use only Interac and cash for your holiday spending. You'll thank yourself come January.
4. Eliminate the guesswork
Be transparent with family and friends about what you do and don't need. It may feel awkward at first, but this simple act of honesty can be extremely helpful for giver and receiver alike. You can save time for your friends and loved ones, and even save them some money by peppering in a few low-priced items. You also ensure you're getting what you really need — even if it's help with basic necessities or paying off debt — and would have to spend money on otherwise.
5. Keep it small
Save gifting and gatherings for those who are closest to you.
Keep things intimate and consider this another break from the high food costs of feeding a crowd. You might find sharing time during a cozy get together with your core people more rewarding than you expect.
6. Manage your energy consumption
Put your lights on a timer to limit increased power costs. Everyone loves a good holiday light display, but even the most beautiful set-up is only going to be visible between sunset and the time everyone goes to bed. Put your lights on a timer, or set yourself a reminder to turn them off daily, to save on energy costs. Switching to low-wattage LEDs can also significantly reduce your power consumption and the number of bulbs you'll have to replace over the lifetime of your lights.
7. Stay close to home
Ask yourself if taking a trip this holiday season yields enough benefit to justify the cost. Staying closer to home can reduce your holiday costs — and the stress of travel — considerably. Most communities and religious organizations offer free or low-cost activities during the holidays such as trains or sleigh rides, holiday mazes, festivals of lights, festivals of trees, parades and other festive events. Take in these community offerings and feel the spirit of the holidays.
Plus, it's a perfect time to enjoy the great outdoors right outside your door. Spread the cheer and go around your neighbourhood singing carols with your friends or sign up to be a snow angel and shovel someone's walk. Make the most of your staycation and leave the holidays feeling rejuvenated instead of financially drained.
8. Reap the ultimate cash back reward
Gift a charitable donation and enjoy a nice tax deduction next spring. If a friend or family member is passionate about a charitable cause, donating in their name can be extremely impactful. Many organizations offer holiday packages which include small trinkets and stories about the impact of the donation. Tears of joy are likely to follow.
Better yet, you can write off a portion of the gift come tax time, either increasing the amount you can give or alleviating the financial pressure of your gift depending on your situation.
9. Get creative
An act of service, a handwritten letter — something from the heart can make a cherished gift. If you have specialized skills or extra time on your hands, giving an act of service can help save money and truly personalize the experience for your recipient. The possibilities are endless, too. It could be something as simple as offering to babysit during the year ahead, or as complicated as helping renovate a bathroom. The only limit is your imagination.
10. Begin your debt-free resolution today
Get a head start on retooling your budget and be ready to hit the ground running on January 1. Getting out of debt is consistently near the top of the most common New Years resolutions. But there's no rule that says you have to wait for January 1 to get started. At the very least, begin planning how you intend to achieve your goal now. Our website has several DIY solutions to help you find your way forward.
11. Share the load
Chip in with others to spread the costs and maximize the impacts of your collective gift giving. You don't have to bear the burden of gift giving alone. If you know there's an expensive item a friend or family member really needs this holiday season, recruit help to make it a possibility. Gift recipients are touched when they realize several of their loved ones have coordinated and pooled funds to make their dream come true.
Again, it's not the number of presents under the tree, but the thought behind them that really makes the experience special.
12. Start planning for next year
Setting aside a little each month will lessen the financial shock of the holidays. If you can set aside just $10.42 every week between the end of this December, you'll have saved $500 by the beginning of the next holiday shopping season. This is truly the surest way to prevent yourself from overspending and going into debt. And you'll be amazed how much more peaceful, joyous, and generous the holidays can feel when you're not constantly worrying about how you'll pay for it all. Especially if you can keep in mind all the tips above.
From our family to yours, we wish you a safe, happy, and debt-free holiday season!