COVID (MNP 3 Minute Debt Break)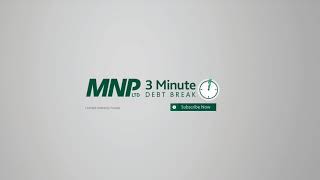 This is the second installment of the MNP 3 Minute Debt Break!
The COVID-19 pandemic has shut down businesses, shaken the global economy and caused large job losses across the country. Thousands of Canadians are taking advantage of federal support measures and many are considering additional ideas to slow all the financial pressures they're under.
Bankruptcy is one option which can be effective for people dealing with unmanageable debt especially during these times. And because of the very real issue of public safety, the Office of the Superintendent of Bankruptcy has made an unprecedented step. They removed the in-person requirements of the insolvency process and empowered Licensed Insolvency Trustees, or LITs, to initiate and administer Bankruptcies and Consumer Proposals online.
Bankruptcy is a formal debt solution offered under the Bankruptcy and Insolvency Act, the BIA. It's a federally legislated opportunity for honest but unfortunate debtors to recover from unmanageable financial distress and receive a fresh start.
At MNP, every bankruptcy begins with a Free Confidential Consultation with a LIT. This initial, no-obligation meeting gives you the opportunity to get acquainted with the LIT, discuss your goals and address any questions or concerns. Once the LIT fully understands your situation and objectives, they'll outline all of the options you qualify for. This could be a debt solution such as a Bankruptcy.
Bankruptcy can be a very smart solution… but many people have concerns about income subsidies and how they will affect a bankruptcy. How will programs like the Canada Emergency Response Benefit, the CERB, affect a Bankruptcy?
When you enter the Bankruptcy process, you must disclose all sources of income, for example income from employment, self-employment, investments, rental properties, et cetera. This information is used to determine the total income you are entitled to earn throughout your bankruptcy. This figure is specifically outlined in the BIA and is intended to balance your need to maintain a reasonable standard of living with your creditors' right to recover a portion of the money they are owed.
The CERB provides temporary financial support to Canadians whose employment has been affected by the COVID-19 pandemic. To qualify for the program, applicants must have had a minimum of two consecutive weeks without employment / self-employment income within a four-week window and earned no more than $1,000 during that time.
It is possible that you could earn enough between your employment income and CERB benefits to surpass the surplus income threshold. However, CERB income will not count towards your surplus income calculations.
You're facing a lot of unknowns right now. From how to keep your family safe to when you might be going back to work and what it will take to return to normal. One thing you can be sure of is… you will always have options to address your unmanageable debt; and you will not be punished for accessing government subsidies to navigate through this pandemic.
Subscribe to MNP 3 Minute Debt Break on your favourite streaming service.