Blue Monday – Take Back the Day
Blue Monday is the third Monday in January and it's been dubbed the most depressing day of the year. Why is it so depressing? Everyone is sick of the cold and the short days and this is the point when a lot of people start falling behind on or abandoning their New Year's resolutions. Many people are also worried about their finances after all the holiday spending on gifts and decadent food. All of this on top of everyday stress and the inflationary pressures Canadians have been feeling over the past 12 months can have a huge impact on your mental health.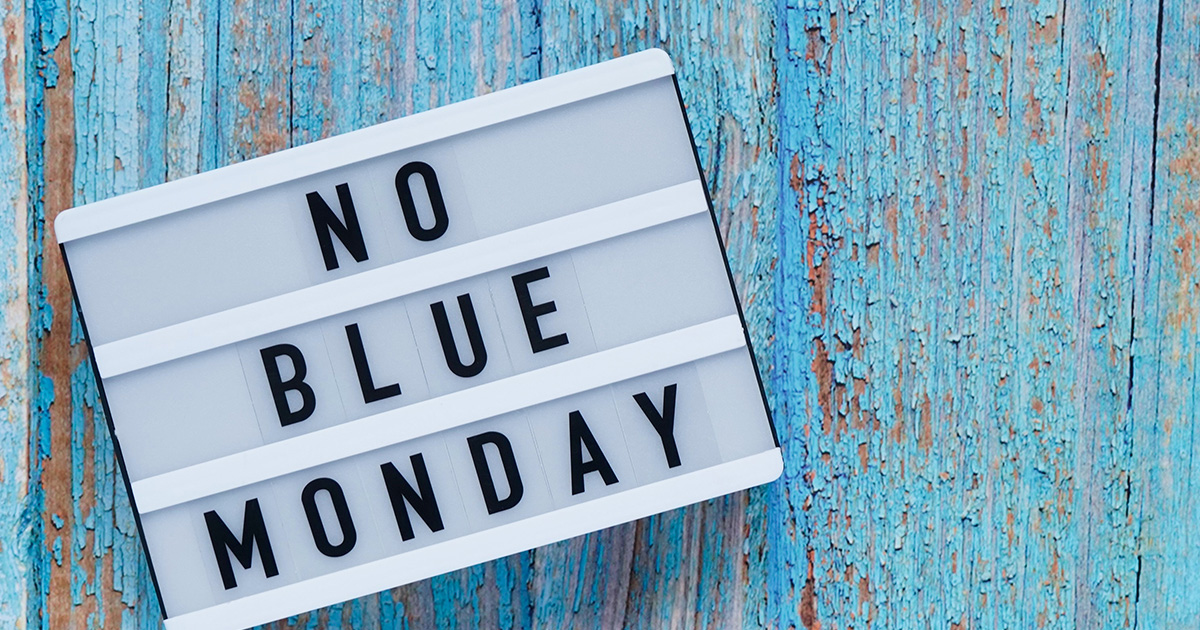 While we can't help how short the days are or motivate you to keep hitting the gym, MNP can definitely help with your debt-related resolutions and the financial anxieties you're facing as those bills start rolling in. We can also look at some pre-holiday spending tips to keep you on track next year, as well as some healthy mood-boosting activities:
Give your budget a refresh. January is a good time to take another look at your budget to ensure it's up to date. Your income and expenses may have changed and it's important that your budget reflects those changes. This also offers the opportunity to cancel subscriptions you're no longer using.
Plan to stay on track.

Set bi-weekly goals to keep your financial resolutions urgent and attainable.

Make use of gift receipts.

Return or exchange gifts you're not likely to use to create a financial cushion through January and February.

Cash in.

Get a fresh start in the new year by selling old items. For example, if you received a new smartphone as a Christmas gift, sell your old one.

Keep an eye on utility costs. Something that some people don't anticipate is the increase in home heating and electricity in the cold months of January and February. Some people are home more as their kids are on breaks from school, working from home, or taking some vacation time to relax. Your energy costs will increase a bit because you're home more, or hosting guests in an effort to stay warm by avoiding going out.
If possible, plan a home energy audit with your province's efficiency experts. They can identify both immediate and planned ways to reduce your energy and heating costs.
Pay your debt down as soon as you can.

If you're following your budget and find yourself with a little leftover after housing, food and transportation, put as much as you can toward the debt. This will increase your motivation to get back on track. You may also want to consider keeping your credit card out of your wallet and not using it for a few months until it's at a more comfortable level. Of course we always suggest keeping a zero-dollar balance and paying all debt right away, but we also know that's not always realistic or possible for someone who is already in the cycle of debt.

Get outside!

Fresh air on a quiet walking trail is good for your health, both physically and mentally. If you're feeling stressed out, take an hour out of your day and enjoy that crisp winter air. Hit the trails, stroll the shoreline of a lake or ocean, or just meander around your neighbourhood to lift your spirits.

Focus on others.

If you have a little free time and want to give back, consider volunteering. Volunteering tends to drop off considerably after the holiday season. Investing your time now can not only boost your own mental health and wellbeing, it can also make a huge difference in your community. Nothing makes a person feel better than when they are helping others.

Talk to someone.

Are you doing everything you can to manage your finances and stress levels but still not seeing any improvement in your worries? If you're unable to meet your financial goals or stick to that budget, then meeting with a Licensed Insolvency Trustee may be right for you. We can review all of your debts with you and help you implement a plan to get back on track.
Keep these tips in mind for next year so you'll be prepared when another Blue Monday comes around. And going into your next holiday season, remember to:
Plan your holiday shopping, and budget accordingly for each purchase. Make a list of what you plan to get each person and look at your budget to see how much you can realistically spend. Sticking to your list and your budget can reduce your stress because you'll know you're in control.
Have a chat with those closest to you.

They may expect a lot from you based on what you've given in previous years. If you can communicate your anxieties honestly, you will find that you are always met with understanding and appreciation. The cost of everything is up, and Santa's workshop is not immune to that! Open communication will bring a sense of internal relief instead of the dread you'll feel if you put the conversation off.

Avoid impulse spending

. You made a list for this very reason. Avoid items near cash registers as these tend to have the most draw. Remember not to shop while hungry. If you come across something you really want to get that is not on your list, go home and think about it overnight. If you still think you need it the next day — and it's within your budget — then go back and get it.

Give a gift from the heart.

A gift doesn't have to have a monetary value attached to it to be meaningful. Homemade gifts are always a big hit — arts and crafts, or vouchers for chores, meals or childcare. Baked goods or homemade freezer meals are also popular.