How you can get the full vacation experience without the debt hangover
Given all the challenges Canadians have been through so far this year, it's safe to say everyone deserves an escape. Vacations can be a great way to escape from everyday responsibilities and reconnect with family and friends. Unfortunately, too many of these trips end up creating more problems than they solve. With inhibitions muted and so many fun things to do, it's easy to fall into a mindset of "putting it on the credit card and worrying about it later."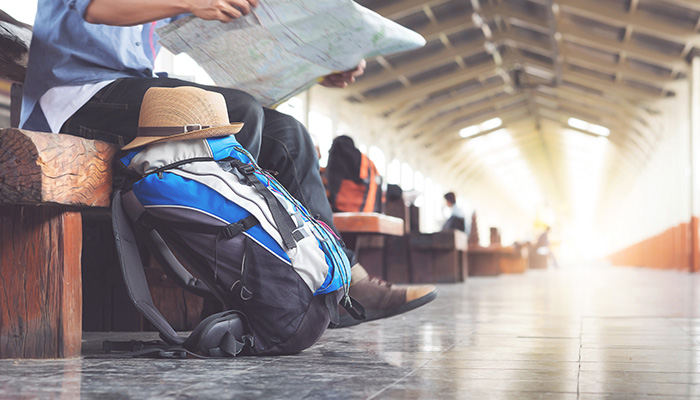 But it's possible to enjoy the best of both worlds — a fun and memorable debt free getaway. All it takes is a little discipline, a lot of planning, and a willingness to focus on what's most important to you.
Here are some faithful tips for a fun and affordable vacation:
Create a vacation fund
A spontaneous getaway can be a fun and exciting way to spice things up. But it's also a recipe for debt regret. Try to plan your vacations at least six months to a year ahead of time. That way you have sometime to look forward to and can pay for it a little bit at a time.
Imagine you want to take a road trip to a semi-local tourist hotspot. You figure the trip will cost around $1,000 total. If you planned a month in advance, you'd need to save $500 over the next two paycheques — which is unfeasible for about half of all Canadian households. Alternatively, if you planned six months in advance, you'd only need to set aside $83.00 per paycheque.
Put this money in a separate account that you can't easily access. This will help avoid the temptation of raiding your vacation fund for impulse purchases prior to your departure date.
Plan ahead and budget your spending
Since you'll already know how much money you have available, it's easy to work backwards to create a comprehensive budget. The following process can help get you started:
Step 1: Write the total amount you've saved at the top of a sheet of paper
Step 2: Write down your essential vacation costs
Accommodation
Travel (e.g. fuel, flight, etc.)
Food
Contingencies (e.g. toiletries, medications, insurance, etc.)
Step 3: Write down your optional vacation costs
Shopping
Excursions / experiences
Etc.
Step 4: Subtract your essential and optional costs from your total vacation savings.
This should leave you with a positive number. Going into the negative means taking on debt, and that's what you're trying to avoid. If the number is negative, there are a few of options to fix that:
Delay your vacation until you can save more money
Reduce your essential costs (e.g. find a cheaper hotel / vacation rental, take a more fuel-efficient vehicle)
Reduce your optional vacation costs (e.g. fewer or cheaper excursions, less shopping)
It's helpful to keep a copy of this budget handy while you're on vacation. It will help keep your spending aligned with your plan and avoid any unplanned costs. Either pack it with your luggage or save a copy on your smartphone for future reference.
Be strategic about your splurges
The temptation to cram your vacation full of memorable experiences can quickly turn you relaxing getaway into a stressful and overwhelming experience. It can also strain your pocketbook. Remember the reason you're doing this is to enjoy some downtime, connect with loved ones, and recharge your batteries. Everything else is just icing on the cake.
Sit down with your family or friends before you depart to discuss the two or three big experiences you all want to take part in. Look online to see whether the company offers discounts for advance or weekday bookings, or for large groups.
You may also feel tempted to splurge on shopping while you're on vacation. To avoid the treat yourself mentality from taking over, put a line item in your budget for vacation purchases. Include one or two items for yourself and your children (if applicable); and make a note of everyone you want to buy a gift for as well. Set a dollar limit for all non-essential purchases.
Finally, consider how important a fancy vacation rental or hotel suite is to you. If you don't plan on spending a lot of time in your accommodations, there may be value to putting those dollars toward something else. Of all the things you'll want to remember, the ultra soft terrycloth robe probably isn't one of them. Or maybe it is. But that likely means sacrificing something else.
Embrace local markets and street food
One of the most exciting parts of visiting a new location is getting a taste for the local culinary culture. But restaurants are a horrendously expensive solution to get eat your three meals per day. If you're not careful, you can easily blow your entire vacation budget on food alone.
There's nothing wrong with indulging once or twice over your stay. But consider stepping off the beaten path and experiencing some of the areas more casual offerings. Street food vendors, especially in popular tourist areas, are often the heart and soul of a city — favoured both by locals and regular visitors. They also tend to charge far more reasonable prices than your typical fine dining establishment, or even a pub.
If you've opted for a vacation rental rather than a hotel, you can also use the kitchen to your advantage. Visit a local grocery store or farmers market and buy some fresh fruits, vegetables, meats and breads. Cook up a few homemade meals in your suite. Even if it's just for breakfast and / or dinner, eating in can save you hundreds of dollars per week.
Life-changing debt solutions
Vacations should leave you with a lifetime of memories — not an eternity of debt. If a costly trip has you struggling to make ends meet, contact MNP to schedule a Free Confidential Consultation today.
During this no-obligation initial meeting, a Licensed Insolvency Trustee will review your financial situation and identify opportunities to get the financial fresh start you deserve. You may qualify for Bankruptcy or a Consumer Proposal, which can halt collections activity and help you become debt free in as little as nine months.
A Licensed Insolvency will always provide an honest and unbiased assessment of your situation and help you make the best choice for your unique satiation. If they believe you would benefit from other debt solutions including, debt consolidation or credit counseling, an LIT can refer you to reputable partners to ensure you have the best chance of realizing your financial goals.
You need a permanent vacation from your debt. We can help you get there.