Dupers, Scammers and Fraudsters: How to Tell the Difference Between a Real Creditor and a Fake
If you're struggling to pay your debts, you may miss payments on your loans and credit cards. When this happens, a debt collector will likely contact you to recover the money you owe. The mounting stress and uncertainty can fuel your temptation to ignore bills, avoid the mail and phone calls.
If this sounds familiar, you could be putting yourself at risk of fake creditors taking advantage of you. However, there are several steps you can take to make sure that doesn't happen.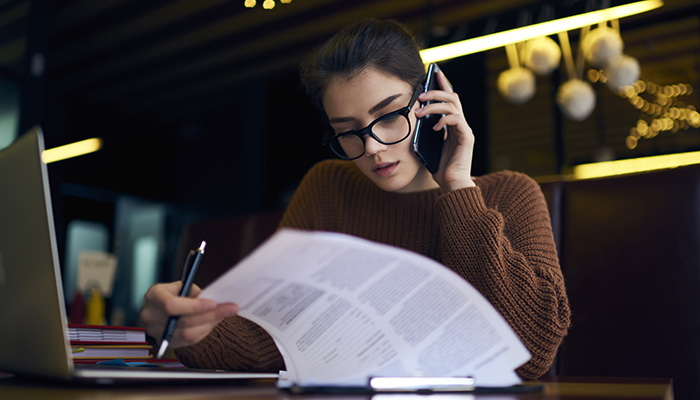 Know What You Owe Before You Agree to Pay
Your creditor (i.e. the company you owe money to) may be trying to recover their money by having their internal collection department, a third-party collection agency or their lawyer contact you. A creditor will usually notify you in writing before handing your account over to a collection agency — including the name of the collection agency, the person or organization you owe money to and how much you owe.
The first step in protecting yourself from fake creditors is to open your bills and bank statements every month to confirm how much you owe and to whom. If you receive a collection call or collection notice, you owe it to yourself to verify the legitimacy of the collector and the debt before you agree to pay.
Verify All Information
Before divulging any personal information, request the following information to determine the creditor's legitimacy:
Name of the person calling
Company (or collections agency) the person works for
Company (original creditor or lender) they represent
Person's phone number
How much you owe
When you incurred the debt
Inform the collector you will call back once you have verified this information.
Get it in Writing
If you can't get it in writing the creditor may be fake. Always ask for documentation of the debt and request the collector contact you in writing only.
If you've already received a letter in the mail with proof of the debt being sent to collections, ask the collector to verify the information before you making payment arrangements. And if the collector argues they've already sent a letter and you don't have it, tell them to send it again.
Once you have information in hand, perform additional research to confirm the collector is legitimately licensed in your Province or Territory.
No Wire Transfers or Prepaid Cards
A real debt collector will give you time to pay and offer legitimate payment options. They will not demand an immediate wire transfer. If you haven't previously arranged to pay your creditor this way, you are likely talking to a fake creditor.
Prepaid card scams are also becoming increasingly popular. If you've recently applied for a loan, you may be contacted by — or see ads from — a company that looks like a creditor offering a loan. These 'lenders' will prompt you to put a deposit on a pre-paid card. Usually, they'll ask for the card number and promise to deposit your loan proceeds on the card. Instead, they will withdraw the deposit money and you never hear form them again.
Never give your bank account or credit card information to a loan company digitally or over the phone. Requests for a down payment or deposit to cover immediate fees are clear red flags of a scam.
Know Your Rights
If a debt collector is threatening to sue or have you arrested, they may be a fake creditor. While creditors have significant leeway to recover debts, there are clear boundaries defining what they can and cannot do. Knowing your rights is vital for protecting yourself.
Debt collectors can:
Debt Collectors cannot:

Contact you at the following times:

Monday – Saturday, between 7:00 a.m. – 9:00 p.m.
Sundays, between 1:00 p.m. – 5:00 p.m.

Contact your friends, family, employer or neighbours to get your telephone number and address.

Contact you on holidays
Suggest your friends, employer, relatives or neighbours should pay your debts (unless they have co-signed your loan)
Use threatening, intimidating or abusive language
Apply excessive or unreasonable pressure on you to repay the debt
Misrepresent the situation or give false / misleading information
Call your mobile phone (unless you've provided it as a primary contact number)
Add any collection-related costs to the amount you owe other than:

Legal fees
Fees for insufficient funds on payments you submitted
Canada Revenue Agency (CRA) Scams
Beware of CRA phone and email scams, which have become increasingly common over the past several years. Fraudsters claiming to represent the federal government will typically inform of an outstanding tax debt, make firm and immediate demands to pay and warn of punitive measures — often jail time — if the victim declines.
According to the CRA website, the CRA will never:
Request information about your passport, health card or driver's license
Demand immediate payment by e-transfer, bitcoin, prepaid credit cards or retail gift cards
Use aggressive or threatening language (including threats of arrest, police action or prison)
Leave threatening voicemails or voicemails filled with personal information
Give or request personal / financial information by email
Ask you to click on an email link
Request you fill in an online form with personal or financial details
Send you a refund via email
Request a public meeting to make payment
Contact you via text message, instant messaging or social media
To learn more about CRA scams and how to protect yourself, visit the Government of Canada's website.
Real Creditors, Unsavoury Tactics
In the event you can confirm a creditor is real, but they are violating your rights, misrepresenting themselves or otherwise acting unethically, consider filing a complaint with the appropriate regulatory body.
Each Province and Territory has its own Consumer Affairs Office which regulates debt collectors. Federally regulated financial institutions (e.g. banks) are subject to federal laws and the Financial Consumer Agency of Canada oversees these companies.
What to do if You've Been Scammed
If you suspect a scammer has or is attempting to take advantage of you, ask the caller for their contact information (name, phone number, employer), then HANG UP.
Chances are the caller provided a legitimate creditor name with fake contact information. Research the company online to confirm their contact information is associated with the company. Call the company and ask questions. If you're hunch is right, the company won't have a record of the call or the caller.
Listen to your intuition. If it seems suspicious, it most likely is. If you feel you've been a victim of internet fraud or identity theft, report the activity to the Canadian Anti-Fraud Centre.