Canadian Consumer Insolvencies Up In Q1 Office Of The Superintendent Of Bankruptcy Insolvency Statistics
Stigma of bankruptcy keeping many in the 'financial sweatbox'
Calgary, AB – May 13, 2019 – The number of Canadians who filed for insolvency in the first quarter of 2019 was up six percent compared to the same quarter last year, according to the latest official figures – providing more evidence of the mounting strain on many households. The Office of the Superintendent of Bankruptcy (OSB) said 127,108 Canadians became insolvent for the 12-month period ending March 31, 2019.
Grant Bazian, President of MNP LTD – the country's largest insolvency firm – cautions the OSB data does not likely reflect the whole story. He says many Canadians who are unable to pay their bills and experiencing significant financial challenges have not yet sought help or professional advice.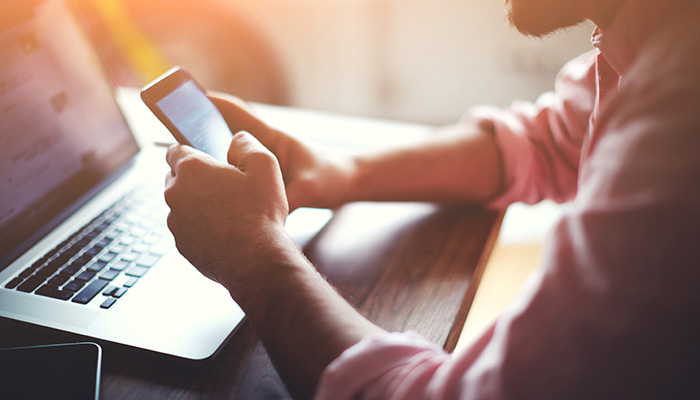 "Filing for bankruptcy can be seen as an admission of personal and financial failure. This shame and guilt causes many people to sweat it out for years before reckoning with their debt," says Bazian.
The time before a Consumer Proposal or Bankruptcy filing is often called the 'financial sweatbox'. People face serious financial hardship throughout this period – sometimes enduring aggressive calls from debt collection agencies, wage garnishment and even forgoing basic necessities – to avoid filing a Consumer Proposal or Bankruptcy.
"Based on our research since 2016, we know many Canadians are experiencing this kind of financial distress. This isn't good news. But it's a discussion we need to have so we can eliminate the stigma associated with asking for help and – if it is the best course of action – filing a proposal or bankruptcy," he says.
Bazian notes part of the solution lies in not only destigmatizing asking for help, but also demystify debt relief options. A number of Canadians are pursuing unregulated, less formal debt management options which the OSB does not federally regulate or track.
"Beware when it comes to companies or agencies marketing quick-fix promises or instant debt erasure. It is important to seek advice from a licensed professional to help determine the best debt relief option," he says.
Licensed Insolvency Trustees are the only professionals who can provide federally regulated insolvency options, such as Consumer Proposals and Bankruptcies. Both options put a freeze on creditors and allow someone to eventually get out of debt while paying only a portion of what is owed. But there are differences in the two scenarios. Primarily that under a Consumer Proposal, a debtor somewhat negotiates the payment amount with creditors – whereas Bankruptcies require one to possibly sell assets and make legislatively-determined payments.
"Some of the concern Canadians feel about their debt undoubtedly stems from a lack of financial literacy and awareness about relief options. Canada has a robust, regulated system to help severely indebted individuals regain financial stability," says Bazian.
Raising awareness about the importance of financial literacy and shedding light on the consumer debt challenges Canadians face has been a priority for MNP LTD for many years. The company developed the MNP Consumer Debt Index to track Canadians' perception of their consumer debt and gauge their confidence in their ability to pay their bills. The most recent index showed nearly half (48%) of Canadians feel they are $200 or less from financial insolvency each month – an increase of two points from the previous wave. A quarter (26%) say they don't make enough to cover their bills and debt payments.
"An absolutely staggering number of people feel like they can't make ends meet. Our hope is bringing this conversation to the forefront will help more people realize they're not alone and that debt help is available," says Bazian.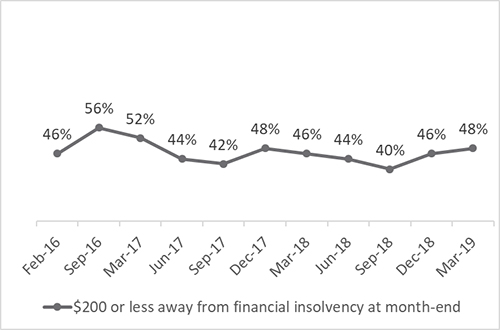 The number of Canadians who say they are $200 or less away from financial insolvency at month-end. The polls were conducted by Ipsos on behalf of MNP LTD between February 2016 and March 2019.

About MNP LTD
MNP LTD, a division of the national accounting firm MNP LLP, is the largest insolvency practice in Canada. For more than 50 years, our experienced team of Licensed Insolvency Trustees and advisors have been working with individuals to help them recover from times of financial distress and regain control of their finances. With more than 230 Canadian offices from coast-to-coast, MNP helps thousands of Canadians each year who are struggling with an overwhelming amount of debt. Visit MNPdebt.ca to contact a Licensed Insolvency Trustee or get a free checkup for your debt health using the MNP Debt Scale.
MNP LTD is the creator of the MNP Consumer Debt Index, an industry-leading national barometer of financial pressure among Canadians. Conducted by Ipsos and updated quarterly, the Index measures Canadians' attitudes toward their consumer debt and gauges their ability to pay their bills, endure unexpected expenses, follow a budget, and absorb interest-rate fluctuations without approaching insolvency. The next MNP Consumer Debt Index is set to be released in July 2019.