If you're looking to break free of personal debt once and for all, we can help. We provide debt and bankruptcy solutions that are life-changing and permanent, so you can erase debt from your life.
The rollercoaster of debt is exhausting. If you're tired of trying to make ends meet, want threatening phone calls from creditors to stop or simply need help to take control of your financial situation, talk to one of our local Licensed Insolvency Trustees. We offer unbiased advice that can help you get back on solid financial ground.
Compare Debt Solutions
If you've been struggling with debt for awhile, you've probably wondered if you should file for bankruptcy. While deciding to declare bankruptcy can offer a fresh financial start, there are other options. Speak with your local MNP Licensed Insolvency Trustee to learn the difference between Consumer Proposals and bankruptcy, or how other bankruptcy alternatives, like credit counselling and debt consolidation, may help you stop the cycle of debt once and for all.
Consider some of the key differences between bankruptcy and a Consumer Proposal.
Bankruptcy – A bankruptcy is a structured, formal process that provides a fresh financial start. You'll be relieved of all debts to unsecured creditors while still retaining select assets.
Consumer Proposal – A Consumer Proposal is a flexible process that allows you to negotiate the terms of your repayment to unsecured creditors — including the amount you'll pay back and the timing of your payments. In addition, you'll retain all of your assets.
Bankruptcy – If this is your first time filing for bankruptcy, you may be automatically discharged from your debt in as little as 9 months. If your income exceeds a standard guideline set by the government, triggering 'surplus income' payments , you would not be eligible for a discharge until 21 months. In the case of a second bankruptcy, these timeframes are extended.
Consumer Proposal – A Consumer Proposal cannot extend beyond 60 months (or 5 years). The exact length depends on your own unique situation. Most proposals involve monthly payment terms; however, they can be flexible and structured to include one or more lump sum payments or some other payment schedule that is better suited to your personal cash flow situation.
Bankruptcy – Credit Bureaus generally keep information about bankruptcy on record for 6 years for those declaring bankruptcy for the first time. The time period is extended to 14 years for those declaring bankruptcy for the second time. Keep in mind you may already have a poor credit rating if you have missed payments or your debts have been referred to a collection agency. Having a bankruptcy on your credit record does not mean you will be ineligible for credit, but it may be harder for you to do so.
Consumer Proposal – A Consumer Proposal will appear on your credit rating for 3 years after completion of the proposal. However, even during the period of the proposal, you can begin improving your credit rating.
Bankruptcy – The amount you are required to pay and all related fees are based on government regulations that take into consideration your net monthly income and the number of people in your household. This can be explored more fully at your free confidential consultation with an MNP Licensed Insolvency Trustee.
Consumer Proposal – Your MNP Licensed Insolvency Trustee will help you make an offer to your creditors, incorporating a payment schedule that works for you. Fees are paid from the amount you've agreed to pay your creditors, with no additional fee payable to MNP Ltd. Most proposals involve monthly payment terms, however, other options can be considered.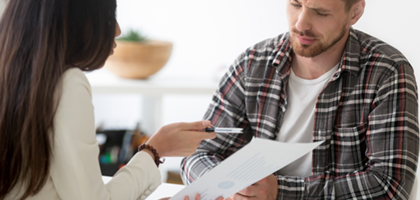 Consumer Proposal vs Bankruptcy
Consumer Proposals and Bankruptcies are both government legislated options which can provide you with relief from significant debt problems. In addition, both debt solutions can only be administered by a Licensed Insolvency Trustee and provide a legal stay of proceedings which require creditors to discontinue harassing collection calls, garnishment or other legal proceedings.
Determining which, if either, option is an appropriate solution in your own unique situation depends on a number of variables. Let's explore the advantages and disadvantages of both a Consumer Proposal and a Bankruptcy.
Latest Blog Posts
2023-09-20
Bankruptcy Consumer Proposal
It's been a long, cold winter, and summer is finally here. It's a season for seeing friends and family. A chance to travel to new and familiar places.
2023-09-20
Bankruptcy Consumer Proposal Lifestyle Debt Debt Solutions
2023-09-18
Bankruptcy Consumer Proposal