MNP Consumer Debt Index - November 2020 (MNP 3 Minute Debt Break)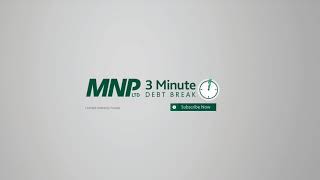 As the country enters its ninth month of economic disruption, the pandemic recession is putting a spotlight on the many different experiences of Canadians during COVID. The quarterly MNP Consumer Debt Index conducted by Ipsos tracks Canadians' attitudes about their debt situation and ability to meet their monthly payment obligations. In October, the Index stood at 94 points, the second-lowest reading ever, on the heels of a record-low in March of this year. Those earning less than $40,000 a year, renters, women, and millennials were the most likely to say their current debt situation is worse than it was in the past. These groups are also at higher risk of insolvency, according to the research.
In many ways, the MNP Consumer Debt Index highlights the different experiences Canadians are having right now. While some are able to continue working in their present jobs, others continue to struggle with financial uncertainty and not knowing whether their job will still be around after the pandemic. Unemployment and debt challenges were already present before the pandemic. The income loss as a direct result of the pandemic limits more Canadians from being able to pay off existing debts and can put them in severe financial distress.
Several indicators making up the MNP Debt Index point to debt trouble, particularly as payment deferrals and government emergency aid programs wind down. Almost half of Canadians now say they are $200 or less away from insolvency, a four-point increase from the last report. This includes 26 percent who are already insolvent to begin with, also up four points.
Given the challenges this year has presented and the underlying issues which pre-date the pandemic, many Canadians are now in a position where they need help to deal with their debt. These individuals need to know there is a vast system in place — a network of MNP Licensed Insolvency Trustees across the country who can offer customized guidance to help them determine the best path forward. Bankruptcy is one option, but it is really the last course of action after exhausting all other available avenues. Licensed Insolvency Trustees are the only federally regulated debt professionals who can provide expertise on all debt relief options and ensure those struggling financially have access to the complete range of solutions available.
Everyone's debt situation is different, so don't just rely on what people have told you or what you've read online. Get professional, unbiased advice. MNP LTD offers free consultations via videoconferencing and by phone. Visit MNPdebt.ca to book an appointment or to start a live chat.
Subscribe to MNP 3 Minute Debt Break on your favourite streaming service.