MNP Consumer Debt Index - July 2020 Update (MNP 3 Minute Debt Break)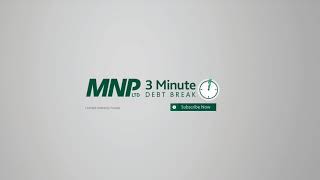 This is the 3 minute MNP Debt Break! A podcast with advice, insight and tips on taking control of your financial world. Brought to you by MNP Debt
It's not something we've heard a lot of lately… but there is some financial optimism many Canadians are experiencing. It's the financial "upside" to the pandemic thanks to relief measures and reduced spending.
After reaching a record low in early March, the MNP Consumer Debt Index has climbed three points to 96, with increasing optimism about personal finances. The quarterly poll, which is conducted by Ipsos on behalf of MNP Limited, found Canadians feel more confident about being able to cover their living expenses for the next 12 months without going further into debt. Compared to pre-pandemic levels, significantly more Canadians rate that their current debt situation as excellent. More than a quarter perceive their debt situation to be better now than it was a year ago. And over a third believe it is better now than it was five years ago.
Many Canadians are more optimistic or even hopeful about their personal debt situation probably as a result of the pandemic relief measures. But it could also stem from comparing their own circumstances to what is playing out in other parts of the world. Many also found it easier to spend less over the last few months since they were required to stay home. With widespread store closures leaving fewer opportunities for spending and many saving on gas and commuting costs as a result of working from home, Canadians now say they have more wiggle room in their household budgets each month. On average, after paying their bills and debt obligations, they report having $148 more at month-end than they did in early March.
However… as with any sudden optimism, it should be tempered with realistic expectations. Even if consumer spending doesn't immediately return to pre-pandemic levels, it wouldn't take much to push many households back into dangerous territory. Just a few hundred dollars per month — less than one unexpected car repair or a loss in overtime pay — may be enough to tip the scales toward an insolvency scenario. As the economy begins to re-open we should also expect to see a range of efforts from creditors to catch people up. Whether that takes the form of increased monthly payments or extended loan terms, the net result will likely see most households further behind and deeper in debt.
Given the already shaky ground Canadians were standing on before the COVID-19 crisis — not to mention the magnitude of the virus, its economic impacts, and the government response, it won't be surprising to see nationwide insolvencies jump. Bottom line, enjoy the current optimism and the potential extra dollars at the end of the month… but as always remain financially practical and prudent.
Subscribe to MNP 3 Minute Debt Break on your favourite streaming service.